Cologne is an impressive historical city that also does fine cuisine and local flavors to a tee. Check out some of the best restaurants in Cologne, from earthy microbreweries to haute joints with French flair.
Best Restaurants In Cologne
Gourmet Restaurants
The Michelin Red Guide is the international reference in terms of restaurant evaluation. The guide awards one to three stars to a small number of restaurants of outstanding quality.
One star indicates a "very good cuisine in its category", a two-star ranking represents "excellent cuisine, worth a detour," and three stars are awarded to restaurants offering "exceptional cuisine, worth a special journey".
The Gault Millau Guide is the other influential French restaurant guide. It is known as Gayot in English-speaking countries. It rates restaurants on a scale from 1 to 20, awarding one toque to restaurants with a rating of 13 or 14, two toques for those scoring 15 or 16, three toques for 17 and 18, and four toques for the top score of 19/20. Five toques are awarded in some countries like France for restaurants scoring 19.5/20. The Gault Millau rating is shown in brackets after the Michelin star(s).
Gaststaette Bei Oma Kleinmann
Having read the reviews at how popular this place is, rather than turn up and take our chances we made a reservation online with the help of google translate! So glad we did! Fabulous food, attentive service, tables were turned over promptly for waiting patrons but at no point did we feel rushed. It was worth the 30 minute walk from where we were staying to work up an appetite – and glad of the walk home to walk off the excess food!
Petere's Brauhaus
Petere's Brauhaus is the king of Cologne's breweries and a place where quality German micro-brews and tremendous food go together. An absolutely stunning setting, with the interior of painted glass ceilings and mahogany furniture. Choose from one of the region's top micro-brews, the Peters Kölsch, and eat the pork chops with dumplings or the sauerkraut with beer sausages on the side.
Le Moissonnier
An original French temple, Le Moissonnier simply follows the philosophy of joie du vivre; everything created between these walls is truly lovely. Cooked by Frenchman chef Eric Menchon, the innovative haute cuisine is served with impeccable presentation that complements the creative tastes. Choose from items like duck breast with wild spice strudel, and grab a fine tipple like the Saint Roman Rouge of 2006 to accompany.
Scampino Wein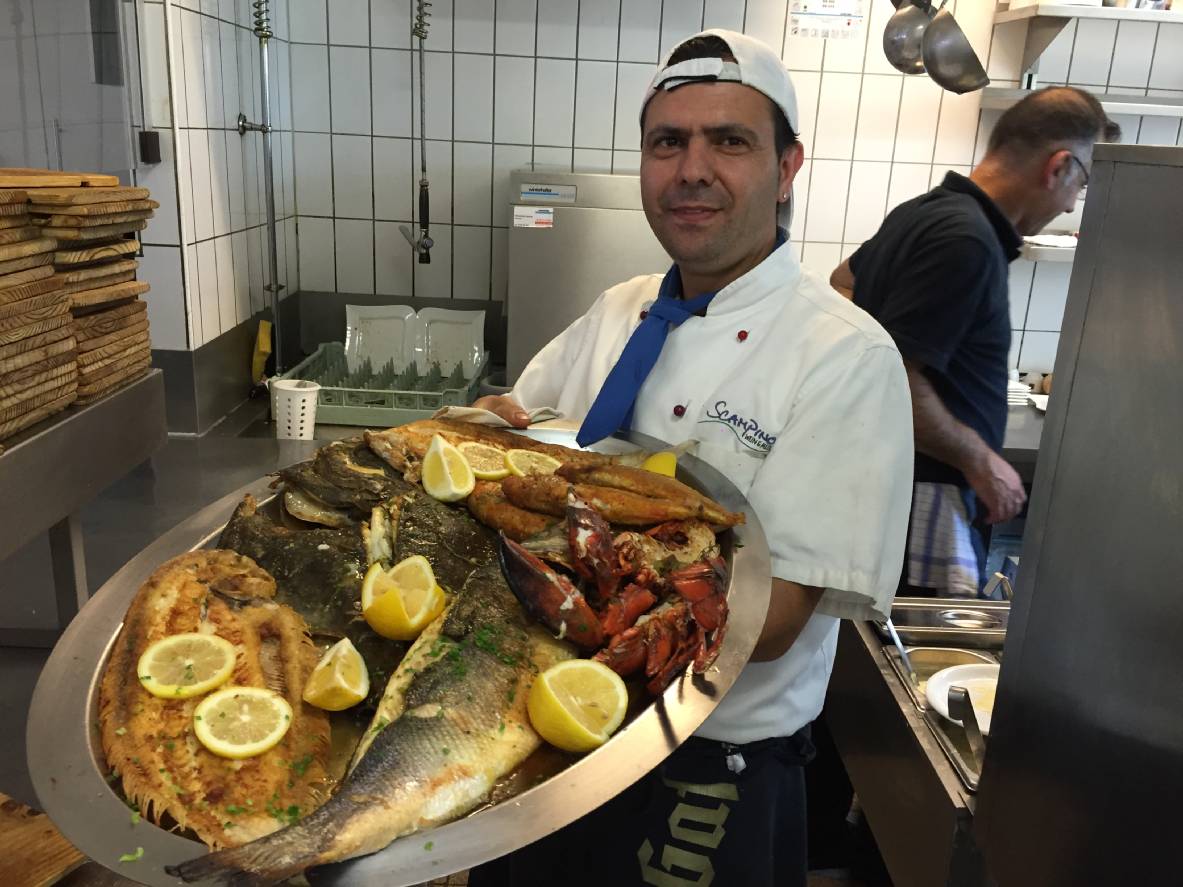 A Mediterranean seafood restaurant, Scampino Wein is located on the Rhine and blends the flavors of the ocean with exclusive wine varieties. You are guaranteed fresh fish, straight from the boats. They boast delicious dishes like fried sole in butter and a fine sea bass fillet sided with herbs and seasonal vegetables.
Le Moissonnier
When wondering where to eat in Cologne Germany, the answer can seldom get better than Le Moissonnier. The eatery is a charming concoction of a classy restaurant serving creative French cuisine and a weinladen with a complementing selection of vintage French wines.
Its European charm comes from the understated, unpretentious interior which makes the restaurant almost casual. With its history rooted in the late 1980s, it becomes another popular dining option for the culturally-curious.
It comes as no surprise that Le Moissonnier, with its wide-ranging menus, has been accolated with two Michelin Stars. Another notch proving it as one of the top restaurants in Cologne.
Brauerei Zur Malzmuhle
Established 160 years ago, the Brauerei zur Malzmühle is an earthy brewery, perfect for all kinds of tourists – solo, couples, friends, groups, or even families. Currently run by the fifth generation in the family, it is no less than a landmark in the city.
Tucked in the Old Town, the brewery now serves an array of delectable dishes that revolve around salad, poultry, red meat, veggies, and fish. There is a separate speciality menu that covers Himmel un Äd pudding and minced beef Mühlen Burger.
Too busy to drink inside? Take your beverage out as you explore the gorgeous city. Make sure to reserve a table beforehand, and the famous brewery is often jam-packed.
Ox & Klee, the trailblazers
This contemporary restaurant is one of the best restaurants in Cologne and in the new harbour district of Rheinauhafen has created another culinary landmark within the city offering up beautiful views and a very cool bar with a summer veranda.